HEY HEY, HAMSA
HEY HEY, HAMSA
It is said that when something repeatedly shows up in our lives, it is for a reason. I first encountered this symbol as a child, as my mother had some Hamsa jewelry. More recently, I started to see it everywhere and took this as an insight that I should make my own stained glass versions.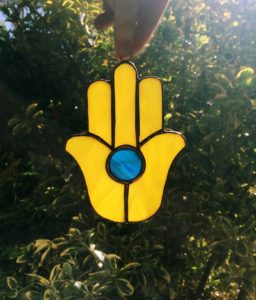 These are the first 3, each in different color stories. The Hamsa in an ancient symbol, recognized by many religions as bringing good luck and protection and is also thought to represent the hand of God.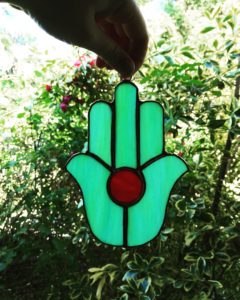 "The Hand (Khamsa), particularly the open right hand, is a sign of protection that also represents blessings, power and strength, and is seen as potent in deflecting the evil eye." The history of this symbol is deep and very intriguing and the renewed popularity is easy to understand.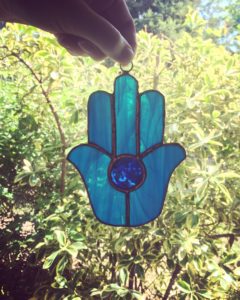 I'm pretty happy with the start of this project and am working on creating a few dozen more for an upcoming craft show. After that, I would LOVE to work on some commissions. The possibilities of color combinations are endless and can definitely be suited for any aesthetic. They make a sweet little addition to any home and whether or not you believe they bring luck or protection, they definitely bring some beauty.